Small Group Lessons through our Instrumental &Music Teaching Service.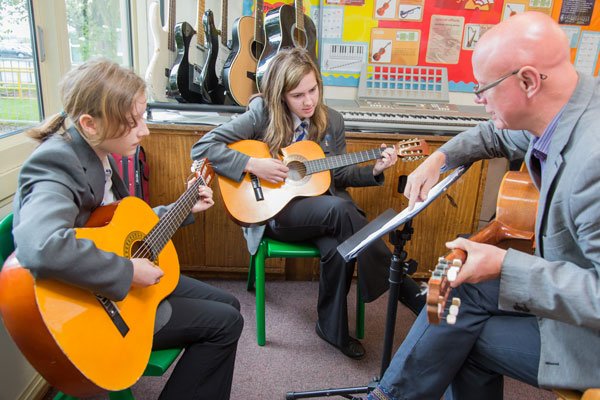 Making Music: A passion that lasts a lifetime!
Why not take a quick look at our two videos for a great introduction to what we can do for your child or school:
Primary Phase Activities
Secondary Phase Activities
Our friendly Instrumental Music Teaching team provide lessons in schools during the school day.  Music teaching is available on instruments ranging from the piano and harp to drums and guitars, and we also offer singing lessons. Teaching is by our dedicated team of highly trained musicians who have  all been checked by the Disclosure and Barring Service (DBS).
While lesson costs are determined by individual schools, the cost of a shared 20-minute lesson will work out at £5.92 per week from September 2016.
Children who receive free school meals or hold an NHS Tax Credit exemption certificate are eligible for free lessons and instrument hire through our Instrumental Music Teaching service: schools which make other arrangements to provide instrumental lessons are required to have their own policy for supporting families who cannot afford lessons.  We recommend that parents/carers should contact their child's school for further information on charges and for any financial support offered.
Contact Us
Tel: 0115 9773287
Email: imt@inspireculture.org.uk
Opening Hours
Monday to Friday, 9am-5pm.