2020 marked 400 years since the Mayflower set sail for America with pilgrims from Nottinghamshire on board.
Mayflower 400: religious migration and exile
Dr. David Gehring of the University of Nottingham tells how the Separatists who sailed on the Mayflower were continuing a long tradition. The decison to leave home was never taken lightly, but many sought religious freedom by making a home elsewhere.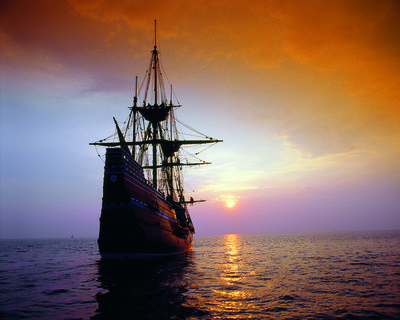 Mayflower 400 Artist Rachel Carter and the Spirit of Mayflower
We have worked with Rachel while she has been tracing her Nottinghamshire ancestry and working on new art commissions inspired by the Mayflower story. 
Listen to Rachel's podcast telling the story of her Atlantic crossing onboard a 1000ft cargo ship, following in the footsteps of the Pilgrims.

Wyn and Ella Pritchard of Highcliffe Music can be heard throughout the episodes performing music and readings based on the lives of Pilgrims William Bradford and Mary Brewster. You'll be transported over the Atlantic and hear Rachel's experiences as a Midlands-based sculptor and her diary, written during her time aboard a modern day cargo ship, contrasted with the story of Mary Brewster, one of only nineteen women who made the perilous journey. Two very contrasting journeys of a lifetime!
Listen to the podcast 
Episode 1 features Mary Brewster's letters written and performed by Ella Prichard, copyright Highcliffe Music- listen to episode 1 here and listen to episode 2 here
Mayflower 400 Filmmaker Hetain Patel and LANDING

Young people from our Inspire Learning courses worked with artist Jo Wheeler and curator Kate Stoddart to help develop a proposal for a major public arts commission to share Bassetlaw's Mayflower story. The young people were involved in the selection process of the artist and chose Hetain Patel and his project titled LANDING, which is in development. You can read the full story here.
More information about the Mayflower Pilgrims and their local and wider links can be found at Pilgrim Roots or Mayflower 400.
Radical Routes
To mark the 400th anniversary a number of arts and cultural organisations, including Writing East Midlands, set out to create a publication exploring the pilgrim heritage of Lincolnshire, Nottinghamshire and Yorkshire – areas not traditionally associated with the Mayflower story.
The story of the Mayflower is the story of migration, and part of the project was to re-interpret this story under a modern lens, looking at the echoes of that journey in the stories of those who have come to the region to settle.
A reader, Radical Routes, is the result of this and you can read all of the Radical Routes issues so far featuring poetry, historical articles, social record and even recipes.

We create easy to do activity sheets to link with each of our fabulous projects and exhibitions. Help yourself to this one and have a go at making a paper Mayflower Ship at home!