2020 marked 400 years since the Mayflower set sail for America with pilgrims from Nottinghamshire on board.
Inspire presents: Mayflower Movies! with Trevor Woolery
Trevor Woolery is a Nottingham based artist specialising in animation, illustration and digital media arts. He was Inspire's 2019 Artist in Residence.
Trevor has designed a fun family workshop as a video tutorial. He will expertly help and guide you to make your own animated GIF inspired by the voyage of the Mayflower ship 400 years ago. Scroll down to find a link to his tutorial.
We hope Trevor will inspire you to have a go! Why not share your creations with us on our Facebook page using #Mayflower400Movies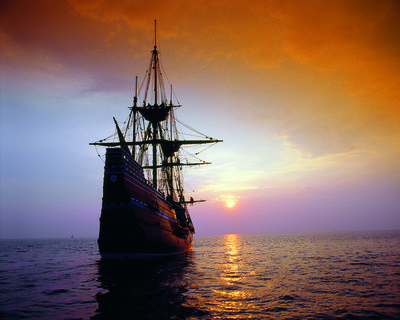 Mayflower 400 Artist Rachel Carter and the Spirit of Mayflower
We have worked with Rachel while she has been tracing her Nottinghamshire ancestry and working on new art commissions inspired by the Mayflower story. The results are now available to view as a virtual exhibition which you can view on the Spirit of Mayflower exhibition link . 
Rachel has also designed a Macramé Hanging especially for Inspire. The knotted leaves perfectly reflect the ones you will find on display in the exhibition - Spirit of Mayflower: Language of Sculpture. We hope Rachel will inspire you to have a go! Why not share your creations with us on our Facebook page using #Mayflower400Macrame
Listen to Rachel's podcast that tells the story of her Atlantic crossing onboard a 1000ft cargo ship, following in the footsteps of the Pilgrims.

Wyn and Ella Pritchard of Highcliffe Music can be heard throughout the episodes performing music and readings based on the lives of Pilgrims William Bradford and Mary Brewster. You'll be transported over the Atlantic and hear Rachel's experiences as a Midlands-based sculptor and her diary, written during her time aboard a modern day cargo ship, contrasted with the story of Mary Brewster, one of only nineteen women who made the perilous journey. Two very contrasting journeys of a lifetime!
Listen to the podcast 
Episode 1, featuring Mary Brewster's letters written and performed by Ella Prichard copyright Highcliffe Music- listen to episode 1 here and listen to episode 2 here
Rachel's work can be seen in two local exhibitions in 2021
Beyond the Mayflower 1620 - 2020
23rd Sept 2021 - 16th Jan 2022, Weston Gallery, University of Nottingham
Amongst the Mayflower passengers were a group of religious separatists, known as the 'Pilgrims', many of whom came from Nottinghamshire, Lincolnshire and South Yorkshire. 

Pilgrim Woman & Paraphernalia
15th Nov 2021 - 2nd Jan 2022, Courtyard Gallery, The Collection, Lincoln
In the 400th anniversary year of the Mayflower voyage, artist and sculptor Rachel Carter has followed in the footsteps of the Mayflower Pilgrims to develop a brand-new body of work inspired by the journey and encounters of the Mayflower Pilgrims.
Mayflower 400 Filmmaker Hetain Patel and LANDING
Young people from our Inspire Learning courses worked with artist Jo Wheeler and curator Kate Stoddart to help develop a proposal for a major public arts commission to share Bassetlaw's Mayflower story. The young people were involved in the selection process of the artist and chose Hetain Patel and his project titled LANDING, which is in development. You can read the full story here and follow the project blog by clicking this link.
As well as events taking place in Inspire Libraries across Nottinghamshire you can visit Pilgrim Roots or Mayflower 400 to see the other events across the county, the East Midlands and the rest of the country to mark this special anniversary.
Radical Routes
To mark the 400th anniversary a number of arts and cultural organisations, including Writing East Midlands, set out to create a publication exploring the pilgrim heritage of Lincolnshire, Nottinghamshire and Yorkshire – areas not traditionally associated with the Mayflower story.
The story of the Mayflower is the story of migration, and part of the project was to re-interpret this story under a modern lens, looking at the echoes of that journey in the stories of those who have come to the region to settle.
A reader, Radical Routes, is the result of this and you can read all of the Radical Routes issues so far here, which feature poetry, historical articles, social record and even recipes.

We create easy to do activity sheets to link with each of our fabulous projects and exhibitions. Help yourself to this one and have a go at making a paper Mayflower Ship at home!