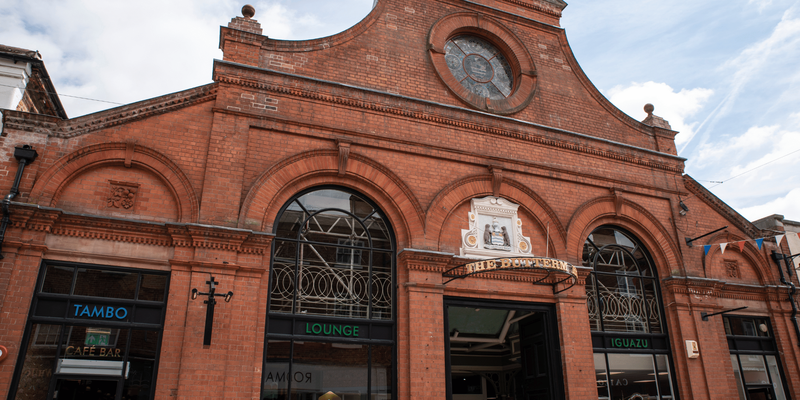 Inspire at the Buttermarket … Open now!
The Inspire offer in Newark is growing …
Visit our brand-new centre at The Buttermarket, Newark, offering a whole range of inspiring courses, workshops, events and more!
We have completed extensive renovations to transform the mezzanine floor - managed by our partners and building owners Newark and Sherwood District Council, who have invited us to take up residence in this wonderful historical building.
Inspire at the Buttermarket is a lively hub for learning, creativity and exploration and will be a valued venue for educational and cultural activities in the heart of Newark town centre.  Working with Newark Library and new learning spaces at the YMCA activity village, Newark is on track to become a trail-blazer for inspiring cultural and learning activities across the county.
We would love to keep you informed about courses and events at the centre so, if you'd like to hear more, go to inspireculture/emails and choose the Newark option to receive email updates.
We're so excited to say that we are now open, so make sure to book a course or join an upcoming activity to see what we've been up to.  The mezzanine floor of the Buttermarket has a whole new world of cultural and educational adventures for young people and adults in Newark, including three brand-new learning spaces, fully accessible state of the art facilities and brilliant tutors.  
We look forward to welcoming you in. You can see our official press release here.
Want to find out more about our Newark offer? Check out everything happening in the area here.
We offer a range of courses for young people and adults including Employability, ESOL, Health and Wellbeing, Arts & Crafts, Creative writing & Literature, Education, English & ESOL, Health & Wellbeing, Languages, Maths, Music and Work skills & Employment. 
Visit our What's on page above. 
Find out more about Inspire College at The Buttermarket. 
The foundation stone near the Middlegate entrance tells us that the building was begun in October 1883, but the story behind its construction goes back much further than that. In 1798 -almost 100 years before the market was built, the site behind the Town Hall was allocated for use as Newark's meat market or butchers' shambles. New buildings for the purpose were erected on the site and opened in 1799.
Adjacent to the shambles and also fronting Middlegate was the town's theatre which had been established in 1774. The theatre and shambles continued side-by-side until 1882 when the Urban Sanitary Authority began investigating alternatives sites for the butchers' market.
 As things stood, the displays of raw meat were resulting in an unpleasant atmosphere in the Town Hall above on hot days, and the shambles buildings themselves were in a state of disrepair. The sanitary authority's suggestion was that the area should be covered over and remain a market, but now limited to groceries and poultry. By August 1882 a competition to design the new covered market had been held and won by Mr C. Bell FRIBA, of London.
 Tenders for construction were invited and accepted from local firms such as C. Baines for general building work, and Abbott & Co. (boiler makers) for the ironwork and roof. On 29th October 1883 the Mayor officially laid the foundation stone for the new building, and following the demolition of the old shambles and adjoining theatre work on the new market was completed a year later.
The opening ceremony took place on 13th October 1884
Among the ideas originally presented by the architect Mr Bell was that the upper storey or gallery could be used as a public lecture hall - so it is really exciting that this vision will come true when Inspire moves in to deliver learning and cultural activities and courses. 
If you would like to get involved in spreading the word about what is happening at the Buttermarket, why not become an Ambassador for the Newark offer.  Visit inspireculture.volunteermakers.org and register your interest.
We would love to keep you informed about developments, new courses and activities at the centre so, if you'd like to hear more, go to inspireculture/emails and choose the Newark option to receive email updates.
The Buttermarket has rooms available to hire. 

To make a booking visit our Booking System which has live availability for this venue. Your booking enquiry will be sent to our Ask Inspire team for confirmation. 
Find out more about Room Hire and all our available venues on our Room Hire pages.