We work with Jazz Steps to bring an exciting programme of live jazz to libraries throughout the year.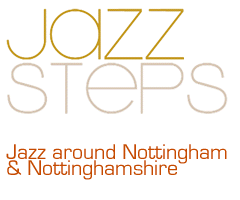 Since the first gig back in 2011, the programme has gone from strength to strength, featuring some fantastic names from the world of jazz and achieving sell out audiences.
The jazz programme takes place in Beeston, Southwell, West Bridgford and Worksop libraries , and offers the opportunity for audiences to experience quality live music in the wonderful setting of a library.
Our next series of concerts begins in February 2022.
Dates for your Diary:-
Beeston Library: Mondays 14 February; 14 March and 25 April
Worksop Library: Tuesdays 15 February; 15 March and 26 April
Southwell Library: Wednesdays 16 February; 16 March and 27 April
West Bridgford Library: Thursdays 17 February; 17 March and 28 April


Also, check out our special content for jazz lovers, including exclusive video performances, photographs, interviews and features can be found on our At Home page here.
To find out more about our partners, Jazz Steps, visit their website.