The Education Library Service offers schools who buy in a cost effective way of supporting curriculum needs.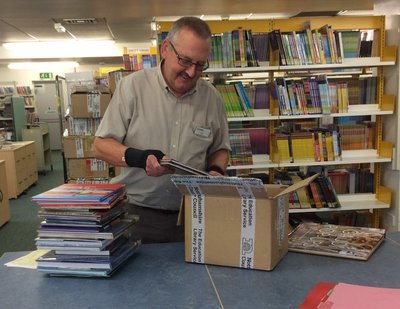 Schools can purchase a book allowance with the quantity and flexibility to suit their individual needs.  Schools may use their allowance to support the curriculum, reading for pleasure or boosting their School Library collection.
For example, an allowance of 100 books, swapped every half term, enables a school to use 600 different items during the year.   All this for a cost of around £609 (based on 2021 prices).
To purchase 600 new titles for your school could cost almost £8,000, as the average price for new hardback curriculum books is £12.99.
Books owned by schools will deteriorate and become out of date over time. Books borrowed from ELS will be constantly refreshed and replaced as often as you like with new and up to date resources in good condition.
Choose from over 300,000 high quality, up to date resources for all ages and abilities from 3 - 16 year olds. 17,000 new items were added to stock 2018/19

Wide variety of resources including big books, posters, DVDs as well as related fiction. View our online catalogue to see our full range of stock 

All children's stock selected and reviewed by specialist librarians with an in-depth knowledge of the curriculum and the range of resources available

Guided reading sets of 6 can be part of your resource collection

Use our Guaranteed Project Service by ordering half a term in advance.
How Do I Get My Project Collection?
For mail order you can phone or e-mail us, see visit our contact us page for full details or you can use our online order form.
To save you time, our specialist librarians will then create resource collections to match your classroom needs. Collections will be delivered direct to schools on our regular van delivery service.
Alternatively, our staff will be happy to help with your selection if you wish to visit to our showroom and choose your own resources.