We run weekly and fortnightly ensembles with Inspire Music teachers throughout term time.
These are currently online, and use Zoom.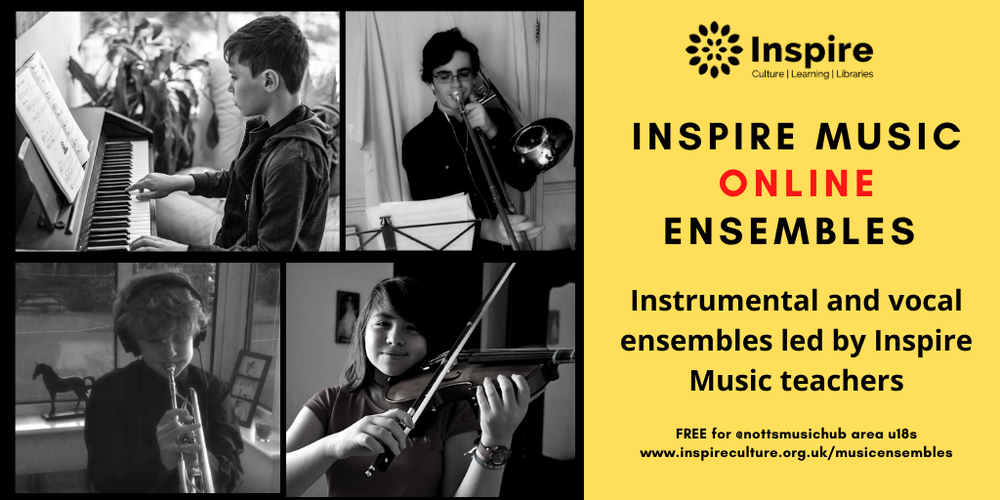 Participation is free to students attending Nottinghamshire maintained or academy schools. Our ensembles are 100% subsidised by Arts Council / Department of Education funding through Nottinghamshire Music Hub.

Current Timetable
Flute - Entry level ensemble: Thursdays, bi-weekly 

Flute - Intermediate and Advanced ensemble: Thursdays, bi-weekly
String ensemble: Wednesdays
Red Hot Swing Band: Wednesdays 
Saxophone and Clarinet ensemble: Thursdays 
Brass ensemble: Wednesdays
Inspired Voices a capella choir for KS3+: Thursdays, weekly (see  www.inspireculture.org.uk/inspiredvoices)
Inspirations choir for KS1-2: Thursday, weekly (see www.inspireculture.org.uk/inspirationschoir/ )
For further details, email Ensembles to nottsmusichub@inspireculture.org.uk
Register now
1. Read our 'Inspire Music Online Teaching Guidance For Parents' statement
Please download and read Inspire Music's online teaching safeguarding guidelines beow. You will be asked to confirm that you have read these during registration.

2. Read our Digial Media Consent Request document
Please download and read our Digital Media Consent Request document below. You will be asked to either accept or decline digital media consent during registration.

3. Complete the Ensembles Online Registration Form below.
Thanks for your submission!
A member of the Inspire Music teaching team will be in touch with you by email you shortly. Look out for our email ending in   @inspireculture.org.uk