Location
The local heritage section at Worksop Library is on the first floor of the building (accessible via the main entrance stairs or a lift).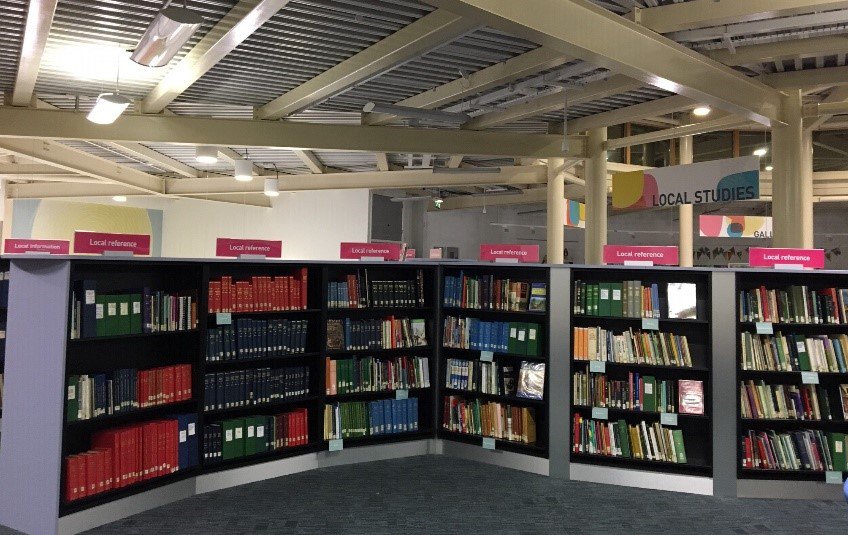 The Collection
The collection contains a range of material relating to Worksop and the local area, with background material on Nottinghamshire and the East Midlands.
You will find resources to help you trace:
         History of local places
         Recent local developments
         Transport
         Local businesses/industries
         Social history
         Local politics
         Family history
         History of individual buildings
The book collection has c.2000 volumes, including works by local authors, and standard works such as John Holland's 'History of Worksop'.
Special collections relating to the Dukeries, the Chesterfield Canal and local industries such as coal mining are a feature of the collection.  

Tuxford resident Eric Coddington (1937- 2012), bequeathed his vast private collection of local history books to Nottinghamshire library service. Several of these, including rare books, can be found in Worksop Library's collection.   
Some books are only available to be consulted in the library, but wherever possible we offer a loan copy of the title as well. The majority can be searched for on the library catalogue but some are not yet included.
The Local Studies classification numbers can be used to find books on specific themes e.g. L90.2 Worksop is the reference for titles concerned with the history of the town in general, but topics such as Education in Worksop have a specific number (L37.1) – indexes are available and staff will be able to help.
Periodicals
Periodicals in the Local Heritage collection include:
The Nottinghamshire Historian
Transactions of the Thoroton Society of Nottinghamshire (history and archaeology)
Parish magazines for many of the surrounding villages
Newspapers
The library has the following newspapers, on microfilm:
The Worksop Guardian (1896 to date)
The Retford Times (1871 – 1997 excluding 1934, 1935, Jan-June 1971, 1988, July - Dec 1989, 1990). More Retford Times issues are at Retford Library
East Retford Advertiser (July 1854 – Dec 1855)
Worksop Journal (Feb 1854 - Dec 1857)
Worksop and Retford Advertiser (June - August 1873 & January - February 1874)
Worksop Standard (3 July - 23 October 1908)
Worksop Dispatch (23 October 1932 - August 1945)
North Notts Guardian / Retford & North Notts Guardian (1981 - 1991 inclusive)
Sissons Shopper - later Bassetlaw Shopper (June 1972 - 1980)
A digital scanner and analogue reader printer are available (for microfilm and microfiche use), as well as microfiche reader machines. 
N.B. The online British Newspaper Archive can be accessed for free in Nottinghamshire libraries. 
A list of Nottinghamshire titles in digital format on the British Newspaper Archive can be found here.

Ephemera
Ephemera boxes have been compiled over many years containing news cuttings, leaflets and printed and written material on local themes.

Trade Directories
Trade directories, covering the period from around 1790, give contemporary information about Worksop, including listings of local industries, and prominent people.

Local Government
Local Government information includes reports and minutes relating to Bassetlaw District Council and Nottinghamshire County Council. Some back copies are also kept by Bassetlaw Museum and Nottinghamshire Archives.
Electoral Registers
Electoral registers, on microfiche, are available for the following years:
East Retford Division 1833 - 1834, 1870 - 1879
Northern Division 1838 - 1885
Bassetlaw Division 1886 – 2001/2 
This excludes the following years: 1905 and 1906, 1911, 1916 and 1917, 1940 - 1944

Absent Voter lists are available for 1918, Spring 1919 and Autumn 1919 & Service Registers for 1945 and 1948.

There is an index available for each year's register (up to the 1990s) which gives the microfiche number for each place covered.

These registers are also available in hard copy: 1880 Register of Voters Northern Division; 1885 Register of Voters Northern Division; 1885-6 Register of Voters Bassetlaw Division; 2001 Register of Electors Bassetlaw (plus Street Index); 2007 Register of Electors Bassetlaw (plus Street Index)
The Photograph Collection
The photograph collection includes over 2000 images, from c.1860 – c.1990, of local places, people and events. They are filed by theme and an index to the classification scheme is available.

Over 22,000 Nottinghamshire images have been digitised and are available on the Inspire Picture Archive website. 
Maps and plans
There are over 1000 maps and plans, covering the period from the late 18th century to the present day.

These include Ordnance Survey large scale 6 inch and 25-inch plans (plus later metric equivalents) of the area from c.1880. There are some earlier Tithe and Enclosure maps (originals at Nottinghamshire Archives) and GOAD plans from 1973 showing Worksop town centre shops and businesses.
These are available to browse. If you have a specific query about mapping please contact Ask Inspire
Census
Census returns for Worksop and its neighbouring parishes, from 1841 to 1901, are available on microfiche, but the free access to Ancestry.co.uk (Library Edition) in libraries is often a more convenient way of searching for Census information.
Parish Registers
Parish registers on microfiche are available for Worksop's churches (Church of England only) as well as churches in these nearby places:
 Bawtry, Bircotes, Blyth, Bothamsall, Carburton, Carlton-in-Lindrick, East Retford, Elkesley, Harworth, Langold, North Cuckney, Ordsall, Perlethorpe, Retford St. Saviour, Scofton with Osberton, Shireoaks, Warsop, West Retford.
A full list can be found on the PDF document below.
A separate family history collection of some key titles to help with the process of researching family history is also available
For help with specific enquiries please contact Ask Inspire
Archival records
Archival records such as wills, diaries, original parish registers (including non-conformist registers), business and personal correspondence etc. are held at Nottinghamshire Archives:

County House
Castle Meadow Road
Nottingham
NG2 1AG
Email: archives@inspireculture.org.uk
Tel: 0115 9581634