Our Nottinghamshire is a community history website highlighting some of the wonderful characters, places and memories from around our County.
The Bentinck Monument, Mansfield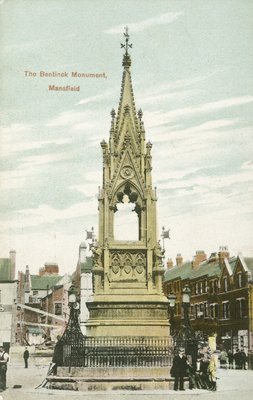 Erected in 1849 as a market cross and funded by public subscription, this prominent feature is missing the statue which should have gone in the space at the top, but they ran out of money and the statue never made it into the memorial.
It came very close to being demolished in the 1960s as it had by this time become unsafe, and two large chunks of masonry were reported to have fallen off. 
The Town Council were given quotes of £1,000 to demolish it and £5,000 to restore it in 1967, and demolition was seriously considered but, the Old Mansfield Society making strong representations to keep it, claiming it could never be replaced and was unique.