Our Nottinghamshire is a community history website highlighting some of the wonderful characters, places and memories from around our County.
Nottinghamshire's People - RMS Titanic link: Harold Thomas Cottam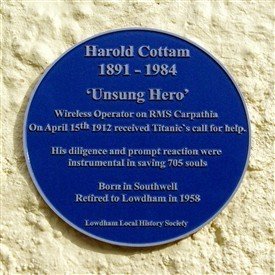 Homegrown
hero, Harold Thomas Cottam from Southwell, played a key role in the rescue of
survivors from RMS Titanic in April 2012. He was a wireless operator on the HMS
Carpathia, and was the first person to respond to the distress signals. As a
result, the Carpathia turned around and steamed for nearly four hours to pick
up survivors and carry them on to New York. Over 700 people were saved that
night, due in part to Harold's vigilance, which resulted in him being given a
hero's welcome when they reached the port.

The
blue plaque was unveiled in Lowdham on October 19th 2013 to
commemorate Harold's actions on that tragic night. (Read the full story here).