We are excited to share our Inspire Annual Review 2019-20. Our annual review this year is entirely online due to the Coronavirus pandemic - and was also launched online at our Annual General Meeting via Zoom on 15 October 2020 with our annual commissioned poem by Panya Banjoko.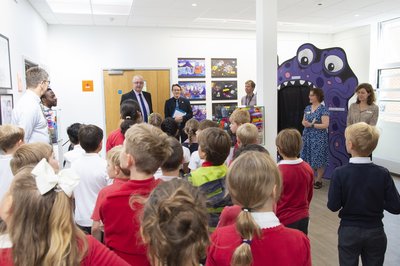 Our vision is to inspire people across Nottinghamshire to read, learn and enjoy culture. 

This review covering 2019/2020, our fourth year, gives you an insight into our work, and highlights some of our achievements, innovative projects and services. We continue to deliver reliable, inclusive and customer centred services, available day-in, day-out across our 66 buildings and 4 mobile vehicles. 
Reflecting back before the Covid emergency is slightly strange as so much has changed since March 2020. However, the work of Inspire continues and we hope this review encourages you to participate in our future. 
During the year, Ladybrook library was refurbished and work to transform Retford library began in earnest, completing over 10 years of significant County Council investment in Libraries across Nottinghamshire. Through new partnerships we were able to increase library opening hours by 93 each week providing greater access to our services and that of partners.  
Inspire Learning was again shortlisted in the TES Further Education Awards for Provider of the Year, alongside the award for the Most Improved GCSE Performance.  
The Able Orchestra performed at UK Media City in Manchester with the BBC Philharmonic and Halle orchestras and through our Arts Council England portfolio funding we commissioned an original theatre production of 'Girl of Ink and Stars' with innovative use of immersive sound technology, reaching over 800 children.  
We marked the 400th anniversary of the Mayflower, held a Fun Palace at Worksop Library and donated 550 knitted worry monsters to charity. With thousands of learners, millions of library visits, many hours of music and dance, thousands of questions answered, and millions of books read, Inspire continued to inspire Nottinghamshire to read, learn and enjoy heritage and culture.  
Our staff and volunteers continue to be professional and friendly offering support, encouragement and skills to help all our leaners, young people and customers get the most out of all we do. Our partnerships get stronger as we demonstrate a track record of innovation and success. Bringing quality and excellence to Nottinghamshire through learning and culture is central to what motivates us. 
The response of our teams to the devastating flood at Worksop library in November 2019 and the Covid emergency has been truly inspirational in ensuring our services are secured and where possible made available safely and virtually. A great example of many individuals working as a single team to respond to very challenging times. 
Our new membership and volunteering programme 'Community Makers' will be launched in the coming year and will offer a range of ways to become an active Inspire member. For more information contact - volunteer@inspireculture.org.uk.
I hope you find this review informative and that it inspires you to get involved as a customer, learner, Inspire member or a volunteer. 
Keep visiting our website to keep up to date and sign up for email to stay connected and be inspired.  

We are always pleased to hear from you, so please also feel free to get in touch via our friendly Ask Inspire team! 

Peter Gaw, BEM 
Chief Executive Officer  
Watch our Annual Review 2019-20 Video
Key achievements 2019-20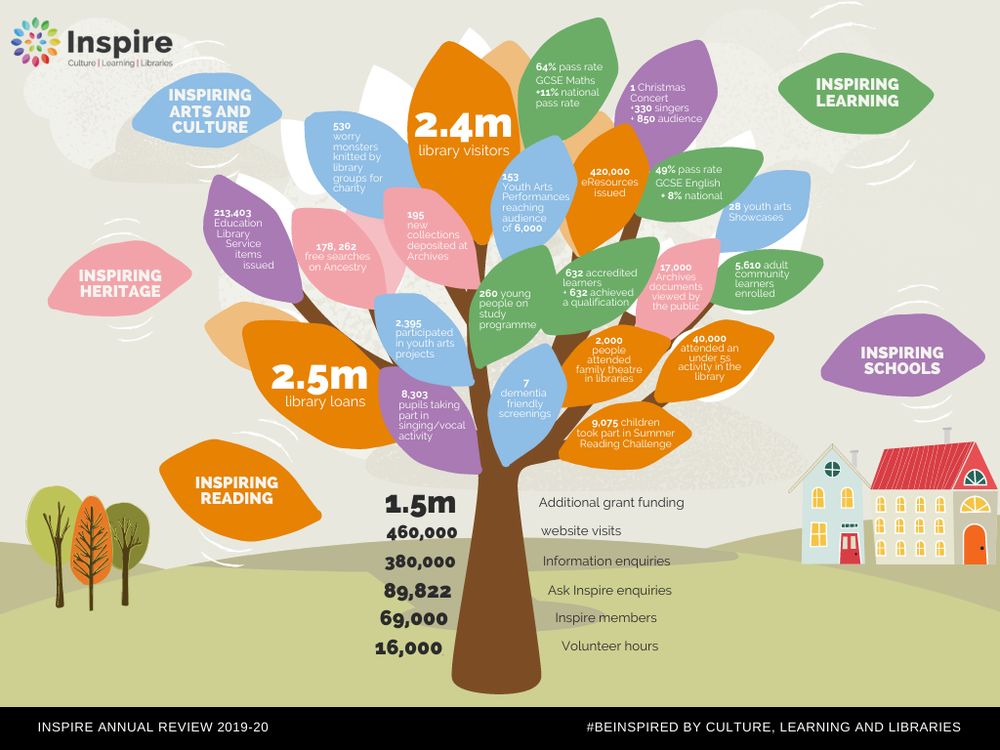 This year's specially commissioned poem by Panya Banjoko
Watch and read this year's specially commissioned poem, by Nottingham based poet, Panya Banjoko. Woven together from words and ideas sent in by Inspire members together with Panya's own, it is a wonderful celebration of the special qualities of our libraries and the people who use them. 
Finances
The majority of funding for Inspire services comes from public funding. Nottinghamshire County Council is the main funder for Libraries, Archives and Cultural services. The Education and Skills Funding Agency (ESFA) and the Arts Council England (ACE) also fund specific areas of delivery.  
Expenditure and Funding  
During 2019/2020 expenditure amounted to £17.5m with turnover of £17.9m with the Society achieving a surplus of £464k. 
Funding and income sources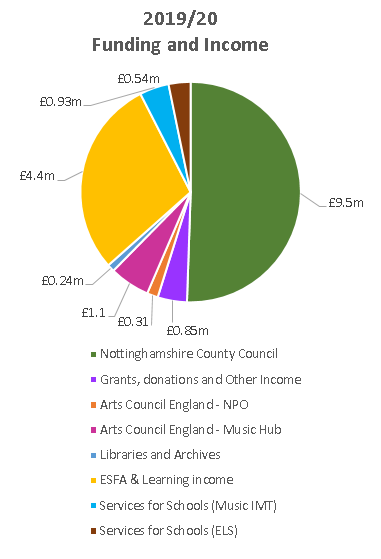 Investment - one off 
The County Council continues to modernise the library service and will spend £2.8 m to complete the library refurbishment programme and upgrade public ICT facilities during 2020/21.  
Accreditation 
Inspire continues to achieve recognition and accreditation from a number of external bodies covering many of our services: 

Governance
Inspire – Culture, Learning and Libraries (Midlands) is a community benefit society with charitable status. Inspire is registered with the Financial Conduct Authority (registered number 7139). 
The main board is made up of 12 Directors; four Community Directors (elected by our members), two County Council nominated, four co-opted, one Staff Director (elected by staff members) and the Chief Executive Officer. There are sub-committees in the following areas: 
Audit and Finance 
Development 
Learning and Skills 
Music, Heritage and Culture 
Staffing and Standards.