Published 15th November 2023
Your new What's On Guide covering December 2023 - March 2024 has launched! View and download a copy online, or pick up a printed copy from your local library or Nottinghamshire Archives later this month.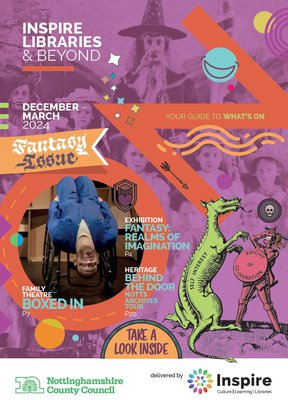 We're finishing a fantastic 2023 and starting 2024 strong with a packed season of heritage, reading, theatre, live music, arts, exhibitions, film, learning and events for children and families!
You'll notice a fantasy theme throughout our new season of events. Thanks to our membership of the Living Knowledge Network, we're able to host a taster of the Fantasy exhibition currently on display at The British Library in London, and many of our events have been inspired by this theme. Children can head Into Goblyn Wood with fantasy author Anna Kemp or follow the breadcrumbs to the Hansel and Gretel family theatre performance presented by Nottingham Playhouse. Adults can go behind the door of Nottinghamshire Archives to uncover the strange beasts that lurk among the records, or even try their luck at escaping using clues of the past!
Grab your popcorn and enjoy a film screening of Stardust, or if horror is more your thing join film producer Clelia McElroy to explore Monstrous Flesh: Women's Bodies in Horror. Plus, our usual programme of dementia friendly film screenings continue. Get into the festive spirit on board the Polar Express or join Woody and the gang in Toy Story 4.
Speaking of Christmas, there's still time to book your tickets for the annual An Inspired Christmas Concert. If you're missing the summer heat, we'll be holding our own festival at our Fantastic Festivals family concerts. Adults can enjoy live music as Jazz Steps Live at the Libraries returns to Beeston, Worksop, and West Bridgford Libraries.
Reading is at the heart of what we do, and we're proud of the range of authors visiting us this season including bestselling crime author T.M. Logan and fantasy author M.A. Kuzniar. Plus, we're launching a new project called I Am A Writer to give adults who may not recognise themselves as creative the chance to work with professional writers to co-create exciting new work.
We couldn't have a more appropriate family theatre performance visiting us in the spring! Luna Loves Library Day – The Musical explores the magic among the shelves this March, and in February we welcome Boxed In, a family theatre performance for everyone who has ever been made to feel naughty because the rules don't make sense.
We're delighted that the Little Creatives Book packed with 25 fun activities for under 5s is now available to borrow from all Inspire Libraries! There are details of the new Little Creatives Workshops starting in March on page 9 of the new brochure.
We love sharing the heritage of our county. Our heritage talks this season will introduce you to the history of our railway lines, uncover the forgotten bustling town of Segelocum, and delve into the story of love, duty, and sacrifice of John Chaworth Musters.
We're ready to give you a warm welcome. Whether it's to try out one of the exciting events from this brochure, to read, learn and enjoy culture, to use IT facilities or connect with your local community, we'd love to see you soon.