See your little artist's confidence grow!
Our team of professional artists have been working creatively to help early years' children learn new skills and have multi-sensory creative experiences.
Following a programme of early years training provided by Hempsall's, our 5 early years artists ventured out across the county delivering artist led creative workshops. The team spent several weeks on a mutually creative journey with small groups of children at 12 early years settings and 14 Inspire libraries. It turns out there are many similarities between the way young children play and experience new materials and the way artists work!
Click on the artists names below to find out more and to join in with an online activity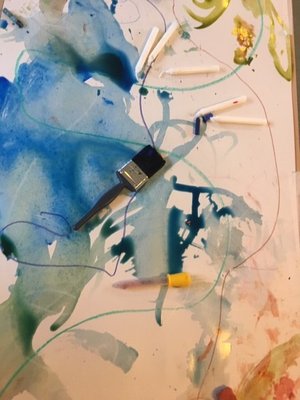 Little Creatives workshops will help your little one unleash their creative imagination and develop new skills as they splodge, splat, scribble and squidge! The artists aim to bring to you a small taste of their specially designed sessions in a series of 'Little Creatives' online activities below. 
We hope the ideas will inspire you to allow your little one to have fun with their own creativity and reach their own conclusions. Instead of making an end-product the sessions are intended to encourage families to enjoy the processes that lead to exploring, discovering and making together.

If you have made something from these online workshops that you'd be happy to share with us, we would love to see your artwork! Use #LittleCreatives and post your creations on the Inspire Arts & Culture Facebook page.
Thank You!
Thank you to the following early years settings for taking part in the Little Creatives journey:
Alphabet House Day Nursery, Beeston
Alphabet House Day Nursery, West Bridgford
Bright Sparks, Mansfield
Busy Bees, Southwell
Cherubs Day Nursery, Worksop
Hillside Primary and Nursery School, Hucknall
Leos Nursery, Arnold
Mapplewells Primary and Nursery School, Sutton-in-Ashfield
Rocking Horse Childcare Centre, Kirkby-in- Ashfield
Serendipitys Day Nursery, Bingham
Serendipitys Day Nursery, Newark
West Street Pre-school, Retford
Fab class. My son thoroughly enjoyed movement, yoga and the story aspect of the class. I loved taking part too, and watching him have fun; being both excited and calm.
We always enjoy these Little Creative sessions! Thanks a lot!
A very fun workshop promoting the use of recyclable materials :) we loved it.