Bringing Artists into View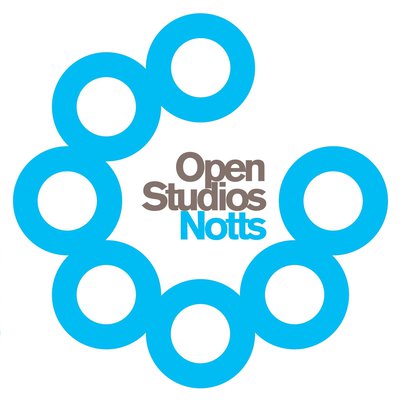 Open Studios Notts aims to widely promote Nottinghamshire artists and maker's open studio events in co-operative collaboration, creating opportunities each year for visitors to connect with artists and to discover their work and practices.
Inspire supports Open Studios Notts by commissioning and curating exhibitions in our Library Galleries. The photographs in the exhibitions capture rare and varied behind-the-scenes images of the artists and crafts peoples' working worlds, shown alongside information about where to visit the Open Studios events taking place across the county.

Each year a number of artists and craftspeople taking part in the event are selected to have their work and workplaces featured in our exhibitions. Who will be on the wall in 2024?
Would you like to exhibit your artwork in an exhibition?
Open Studios Notts is making its annual call out to Nottinghamshire artists and makers who would like to open their studios to the public and be part of OSNotts 2024.
OSNotts include:

Open Studios events of participating artists and makers
A printed and widely circulated brochure of all events
Year long studio and profile entry of the OSNotts website for each participating artist
A chance to be selected for one of the Inspire Library exhibitions in either West Bridgford, Worksop or Southwell libraries.
Get your work photographed!
Each fee-paying artist participating in OSNotts will be eligible for selection by Inspire to have professional photographs taken in their studio to be featured in the library exhibitions and for each artist's own use.
Applications will be open soon, visit: osnotts.co.uk
The deadline for applications is 9am, Friday 26 January 2024. 

Exhibition Dates:
The 2024 Open Studios Notts: Bringing Artists into View Exhibition will be at: