#WeInspired in 2020-21
Our vision is to inspire people across Nottinghamshire to read, learn and enjoy culture. 

This review gives you an insight into our work, and highlights some of our achievements, innovative projects and services during 2020-21. We hope #WeInspired the people of Nottinghamshire.
Inspire Annual Review Video
This year's specially commissioned poem by Michael Rosen.
Chief Executive review
Report from Cllr John Cottee, Chair of the Inspire Board
Finances
Governance
Accreditation
Watch our Annual Review 2020-21 Video
This year's specially commissioned poem by Michael Rosen
Chief Executive review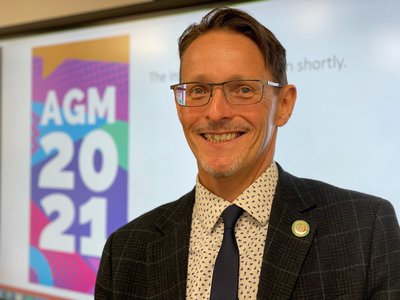 2020/2021 marks five years since Nottinghamshire County Council launched Inspire: Culture, Learning and Libraries to deliver cultural services to Nottinghamshire's residents.  It also marks the year where despite a global pandemic we continued to deliver reliable, inclusive and customer centred services, available day-in, day-out online and in-person when restrictions allowed.  At the start of the covid-emergency I could not have foreseen that I would be looking back on potentially our best year yet, despite long periods of closure of our 66 buildings normally at our core. 

I'm immensely proud that during this time, colleagues across all Inspire services worked hard to develop a virtual offer. Many of our services quickly switched to online delivery, creating a wide range of resources, commissioning original content and developing online learning. Ask Inspire provided people with information, helping them to get online but most importantly were a lifeline to many while isolated at home.
Virtual visitors to Inspire Online enjoyed online exhibitions, dance tutorials, music lessons, poetry tours, author readings and a book club. We were able to keep Nottinghamshire reading, developing our eResources to be accessed online from home. Our young learners were able to access their Study Programme remotely and we offered adults the chance to learn with us online for the first time. Schools were supplied with endless music resources by Inspire Music and with books by our Education Library Service.
The response of our teams to the pandemic was truly inspirational, whether supporting the move to online, maintaining our buildings during closure, delivering books or just making those calls to customers to support them during difficult times. Our partnerships got stronger as we continued to demonstrate a track record of innovation and success. Bringing quality and excellence to Nottinghamshire through learning and culture is central to what motivates us and doing this during a global pandemic was indeed our greatest achievement.   
Inspire now has an important role to play as Nottinghamshire communities and the economy recovers from this crisis – from providing spaces, new skills, business information and IT access, resources and learning opportunities to support health and wellbeing, and by supporting the community and helping those who may experience loneliness and isolation. We will continue to grow our support for young people with skills, learning and cultural opportunities, for schools with our education library and music services and not forgetting provision for children and families. Our new membership and volunteering programme 'Community Makers' has now fully launched offering a range of ways to become an active Inspire member. 
I hope you find this review informative and that it inspires you to get involved as a customer, learner, Inspire member or a volunteer. 
Keep visiting our website to keep up to date and sign up for email to stay connected and be inspired.  

We are always pleased to hear from you, so please also feel free to get in touch via our friendly Ask Inspire team! 

Peter Gaw, BEM 
Chief Executive Officer  
Report from Cllr John Cottee, Chair of the Inspire board
Finances
The majority of funding for Inspire services comes from public funding. Nottinghamshire County Council is the main funder for Libraries, Archives and Cultural services. The Education and Skills Funding Agency (ESFA) and the Arts Council England (ACE) also fund specific areas of delivery.  
Expenditure and Funding  
During 2021/2021 expenditure amounted to £17.1m with turnover of £18.1m with the Society achieving a surplus of £1m. 
Funding and income sources 
Governance

Inspire – Culture, Learning and Libraries (Midlands) is a community benefit society with charitable status. Inspire is registered with the Financial Conduct Authority (registered number 7139). 
The main board is made up of 12 Directors; four Community Directors (elected by our members), two County Council nominated, four co-opted, one Staff Director (elected by staff members) and the Chief Executive Officer. There are sub-committees in the following areas: 
Audit and Finance 
Development 
Learning and Skills 
Music, Heritage and Culture 
Staffing and Standards. 
Accreditation 
Inspire continues to achieve recognition and accreditation from a number of external bodies covering many of our services: