Inspire loves Bookstart! Bookstart is a national programme that encourages all parents and carers to enjoy books with their children from as early an age as possible. 
Bookstart aims to give free packs of books to every baby in the UK, to inspire and create a love of reading that will give children a flying start in life. And most of all show that books are fun!
In Nottinghamshire, Inspire works together with health professionals and early years settings such as nurseries, pre-schools and children's centres to make sure every child receives their book pack.
All children are eligible to receive the following pack:
Bookstart Baby Pack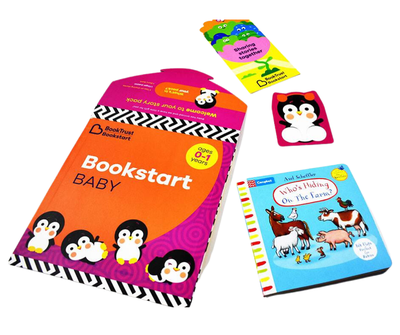 The Bookstart Baby Pack is for babies aged 0 to 12 months. Available from:
The pack contains:
A board book − perfect to enjoy with your baby (titles vary).

A finger puppet card
A booklet of tips and ideas for sharing books with children from a young age.
There is more information about the Bookstart baby pack on the Bookstart website
Bookstart Packs for children with additional needs
Bookstart also provides packs for children who need extra support to develop a love of books and reading. The packs contain advice and guidance for parents and carers to support their child's additional needs. 
Booktouch packs are for  children between the ages  of 0 to 5 years who are blind or partially sighted.

Bookshine packs are available for children between the ages of 0 – 5  years who are deaf.
Bookstart Star pack is aimed at children aged three to five who have a condition or disability  that impacts on or delays the development of their fine motor skills and includes books and resources to help families enjoy reading together every day.
Contact
Ask at your 
local library
 for more information or contact:
email: bookstart@inspireculture.org.uk 

telephone: 0115 804 4431