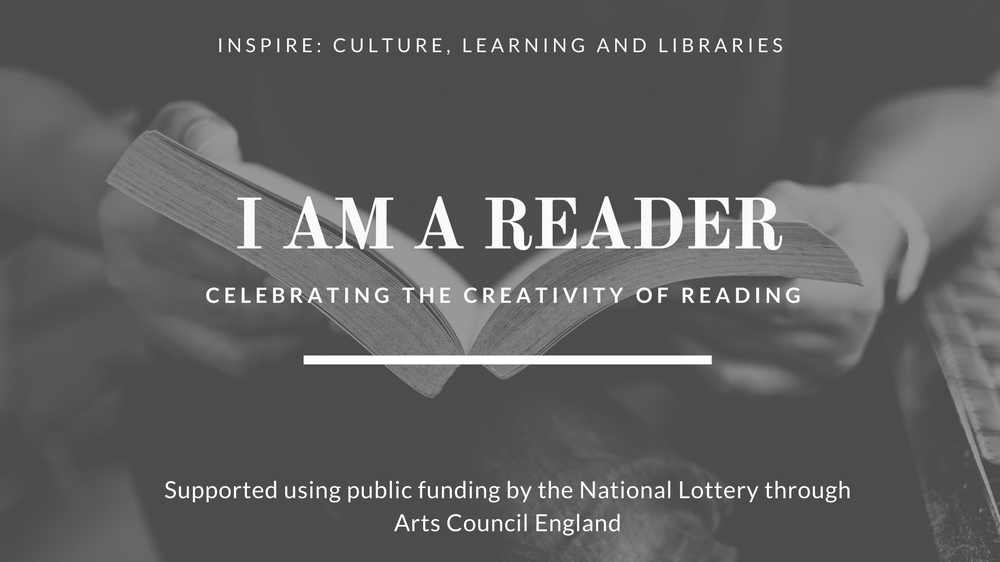 Calling all readers!

We're working on an exciting project to explore and celebrate the creativity of reading. Whatever types of books you read, from crime novels to literary fiction to fantasy to thrillers, and whatever format you read them in, be it the written page or eBook or audiobook, we believe all readers play a real part in bringing stories to life.
To help us explore and celebrate the role of the reader, I Am A Reader will bring a range of opportunities for readers to share their thoughts on, and experiences of, reading with us 
The first part of the project has been successfully completed - see below for more information about our brilliant new book!
We are now widening the reading conversation to reach even more readers. Head to our project website I Am A Reader - Inspire: Culture, Learning and Libraries  and click on get involved to find out how you can take part. If you would like to receive email updates about I Am A Reader, our email newsletter for book lovers Love Reading and other book related news to your inbox, simply sign up to our email lists now and select Books and Reading as one of your preferences.
Six Stories 
The first part of the I Am A Reader project took place in Spring and Summer 2022 and involved six groups of adult readers working with six acclaimed authors to talk about their personal approaches to reading and commission a brand new story, created by the writer for, and with input from, the group. 
Three of the groups involved specific audiences, including neurodiverse readers,  Broxtowe Women's Project, and readers based in West Notts for our place-based group at Kirkby-in-Ashfield Library. A further three general groups met on Zoom. 
All the stories have been published in a beautiful anthology, illustrated by our wonderful artist Carol Adlam. Copies have been given to all participants and it is also available to borrow from libraries! 
During the reading groups sessions, we gathered thoughts and insights about reading from readers themselves . Our artist created a a series of illustrations inspired by these insights that bring the reading experience to life. These artworks will be part of an exciting touring exhibition which will tour library galleries in late 2022 and early 2023.