Do you enjoy a challenge?  Take part in six weeks of silly challenges this summer.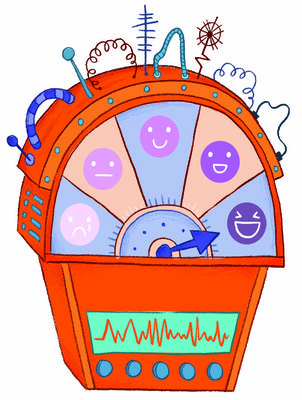 Inspired by Silly Squad, Summer Reading Challenge 2020, we've created six weeks of Silly Summer Challenges for you to complete  From reading dressed in disguise to blowing raspberries whilst reading there is a whole host of silly activities to get involved with.
You can complete the challenges week by week.  New challenges will appear here every Monday.   

Or if you fancy being a super challenger you can attempt them all at once!   The full list  (including the score chart) is available to download below.
Good Luck!

Download a copy to see all of our fantastic challenges.
Silly Summer Challenges - Week 1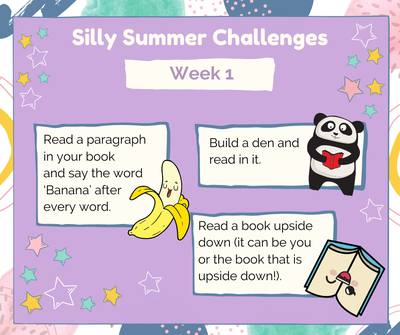 Read a paragraph in your book and say the word 'Banana' after every word.


Build a den and read in it.


Read a book upside down (it can be you or the book that is upside down!)
Silly Summer Challenges - Week 2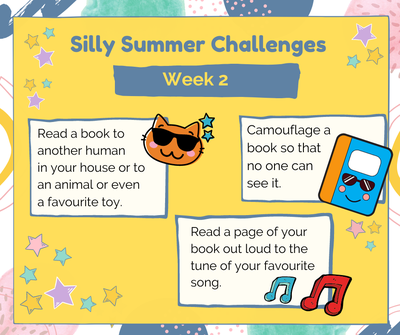 Read a book to another human in your house or to another animal or even a favourite toy.
Camouflage a book so that no one can see it.
Read a page of your book out loud to the tune of your favourite song.
Silly Summer Challenges - Week 3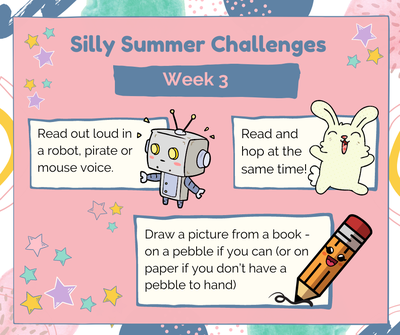 Read out loud in a robot, pirate or mouse voice.
Read and hop at the same time!
Draw a picture from a book - on a pebble if you can (or on paper if you don't have a pebble to hand).
Silly Summer Challenges - Week 4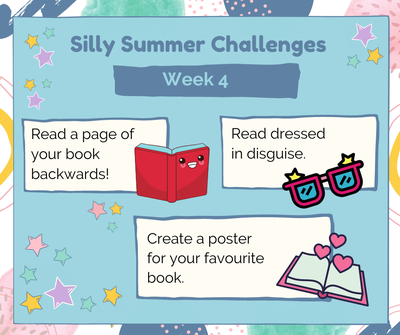 Read a page of your book backwards!
Read dressed in disguise.
Create a poster for your favourite book.
Silly Summer Challenges - Week 5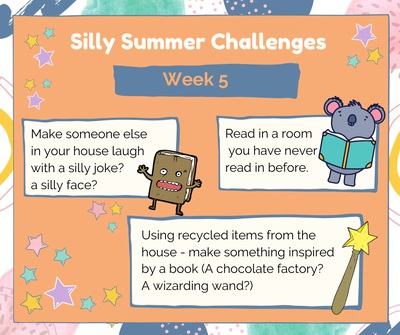 Make someone else in your house laugh, with a silly joke? a silly face?
Read in a room you have never read in before.
Using recycled items from the house - make something inspired by a book (A chocolate factory? A wizarding wand?)