8th May 2020 marks the 75th anniversary of the ending of the Second World War in Europe - VE Day ('Victory in Europe' Day)
Complete victory - with the ending of the war in the Pacific - was still another three months away (VJ Day) - but in May 1945, after nearly six years of war, celebrating Victory in Europe was cause enough
Street parties were, of course, a great part of these celebrations, and whilst we, with the current government restrictions, may not be able to commemorate in the same way, we are inviting households to mark the anniversary in their own homes by making a personal bunting flag to capture and reflect your family history during the war years.
You can take part in these national commemorations from your own home. Just follow our suggestions and download the how to sheets and bunting flag templates below.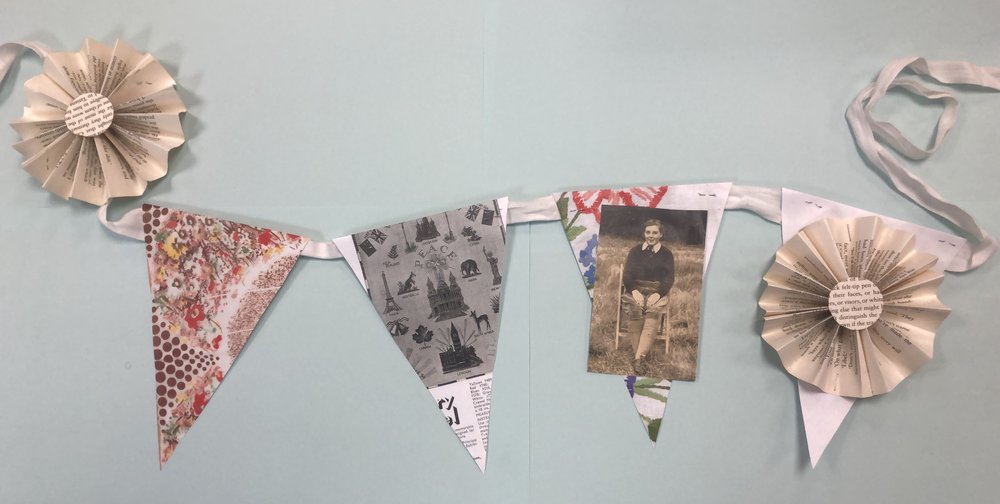 Getting started - here are some ideas for your family bunting flags:

If you or your family members have any wartime memorabilia, make a copy of it for a flag. You may have a treasured family photograph, a ration book, medals, militaria, something special from the 'home front'…

Scan, photograph, print and draw copies of precious items
Copy part of a vintage embroidered tablecloth, a section of patchwork, an example of knitting, a vintage fabric.
You could write out a wartime recipe or copy a page from an actual wartime family recipe book.
Use any scraps of fabric or cut up old clothes and knitwear to craft original 'make do and mend' inspired flags.
Try making a folded rosette from scrap paper to decorate your bunting flags and apply buttons and other vintage style decorations.

We hope you enjoy creating your Family Treasures Bunting and, when complete, will share photos of it with us here.