Chris is a Little Creatives artist, he's one of a team of five who've been creating workshops specifically designed for early years children.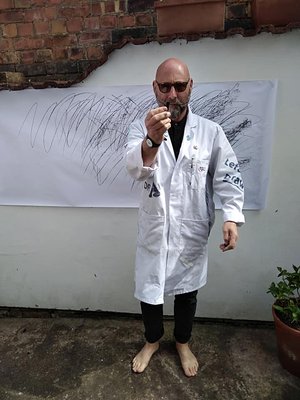 Chris Lewis-Jones is based at Primary in Nottingham.  He is an artist-flaneur, a 'hopeful traveller' for whom the journey is more important than the destination. His practice includes drawing, painting, printmaking, photography, installation, music, spoken word performance and much more. The work he does in the studio at Primary is enhanced by the work he does in library, community and educational contexts. He is an evangelist for the arts in general and drawing in particular.  
Find out more about Chris's work here
Workshop 1 - Make a Frottage Artwork with Chris
Notes for adults: Instead of using a regular pencil Chris uses a graphite stick or chunky crayon, both are great for this frottage activity. Small children must be supervised when using art materials. 
Workshop 2 - Combining Frottage with Wax Resist
Notes for adults: Please supervise and advise your child about which surfaces are suitable to frottage.