Dawn is a Little Creatives artist, she's one of a team of five who've been creating workshops specifically designed for early years children.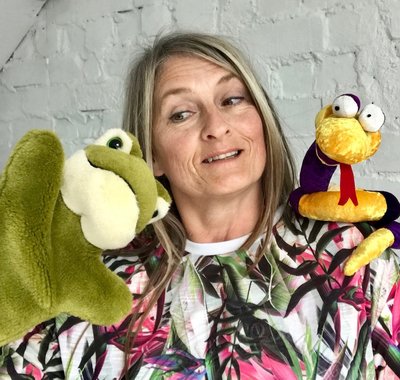 Dawn Taylor is a practitioner and teacher of art and yoga. 
Dawn is a qualified yoga teacher with 16 years experience.  Delivering family focused and children's yoga has become a regular and rewarding experience.Her family and children's yoga sessions are fun, interactive and multi-sensory.  The yoga story takes children on a magical, animated journey where they explore physical movement and relaxation in a non-competitive environment. The sessions are enriched by nurturing an awareness of mindfulness.
When creating her own art, she draws inspiration from many sources such as the beauty of nature, her travels around India and yogic lifestyle.  Her work incorporates a variety of methods including mono print, watercolour, collage and inks.  She has a love of using bright, fluid colours and patterns.  Her 'soul art' is created with heartfelt expression and often include positive affirmations.   Her art is inspirational and her teaching style facilitates self expression and confidence building and recognises the healing power of creativity.
Dawn has a wealth of experience of delivering sessions in a variety of settings. She currently works for several charities and teaches in nurseries, schools, libraries, care homes and corporate settings.  Dawn has taught extensively to adults and children with learning disabilities and always aims to make sessions person centred, inclusive and accessible.
Find out more about Dawn's work here
Workshop 1 - Creative Feather Fun
Notes for adults: Dawn will be using craft feathers which could be a choking hazard for small children. Children must be supervised at all times with craft materials.
Workshop 2 - Creative Scarf Play
Notes for adults: Please use a small, lightweight square scarf when taking part in the following activities. Children must be supervised at all times.