Michelle is a Little Creatives artist, she's one of a team of five who've been creating workshops specifically designed for early years children.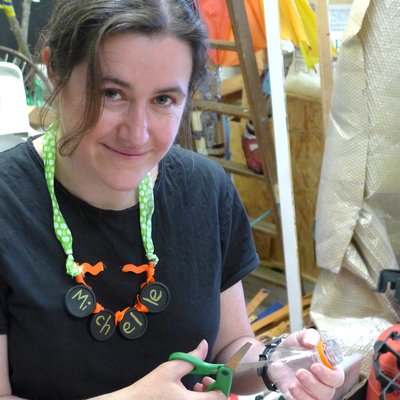 Sculptor Michelle Reader makes her sculptures from recycled materials in her workshop at the Harley Foundation Studios on the Welbeck Estate in North Nottinghamshire. She has been making unique figurative sculptures from household waste and found objects for over 22 years.  Her sculptures are often representations of the natural world - for example a jaguar made from satellite dishes and remote controls, a bumblebee with a gas mask for a face, or a redshank with venetian blind feathers and shelf brackets for a beak.  
Michelle makes sculptures for businesses and events made from waste materials.  Her sculptures tell stories through materials and encourage people to consider how things they would normally throw away have the potential for creative re-use.  Alongside making her own work she also runs eco art workshops for schools, adults, children and families.

Find out more about Michelle's work here
Workshop 1 - Build a nest with Michelle
Notes for adults: Please use child friendly scissors and supervise your child while they are cutting and using wire and sticks.
Workshop 2 - Create an Island with Michelle
Notes for adults: Please make sure that recycled and found materials are cleaned before use and avoid using small objects if your child is under 3 years old. Supervise your child when making and using playdough.