A playful and interactive online storytelling adventure for children aged    2 - 5
Written and performed by Manya Benenson
Original story developed with Hannah Stone, Lucy Mackay-Jones and Sarah West Valstar
Join Little Owl as he journeys deep into the rainforest and help him rescue the amazing animals he finds there.  
This magical storytelling adventure features beautiful animation by SoJo Animation,  artwork by Erin Fleming and of course Granny and Little Owl.
Grab some fearsome flappers* (available below!) Make a cosy nest ... and get ready for a Rainforest Rescue.
Fearsome Flappers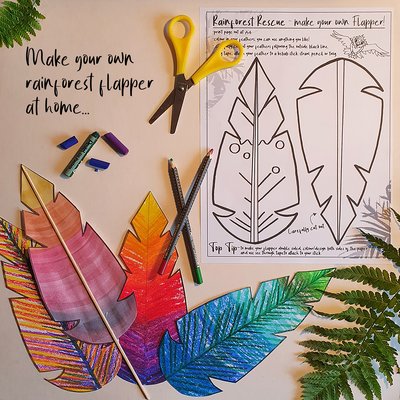 Download your fearsome flappers activity sheet below.
You will need

Coloured pencils or pens
Scissors
Tape
Straw, pencil or stick to attach to your flapper
But remember...if you aren't able to make flappers - Story Explorer magic means your arms can transform into fearsome flappers all by themselves.

Creative Team
Written and performed by Manya Benenson
Illustrated by Erin Fleming
Animated by Sophie Johnson Hill (SoJo Animation)
Directed by Manya Benenson and Martin Berry
Creative Associate Evie Wakefield
Original story developed with Hannah Stone, Lucy Mackay-Jones and Sarah West Valstar.